This week is Cervical Cancer Prevention Week. Ollie, Emily and the PCN Care Coordinator's are teaming up to help raise some awareness.
If you have recieved a letter, or are overdue your smear test, please call your GP practice and book one today.
Together we are stronger!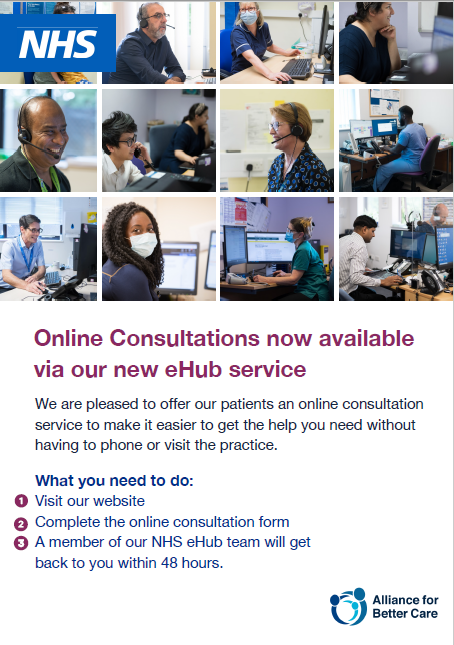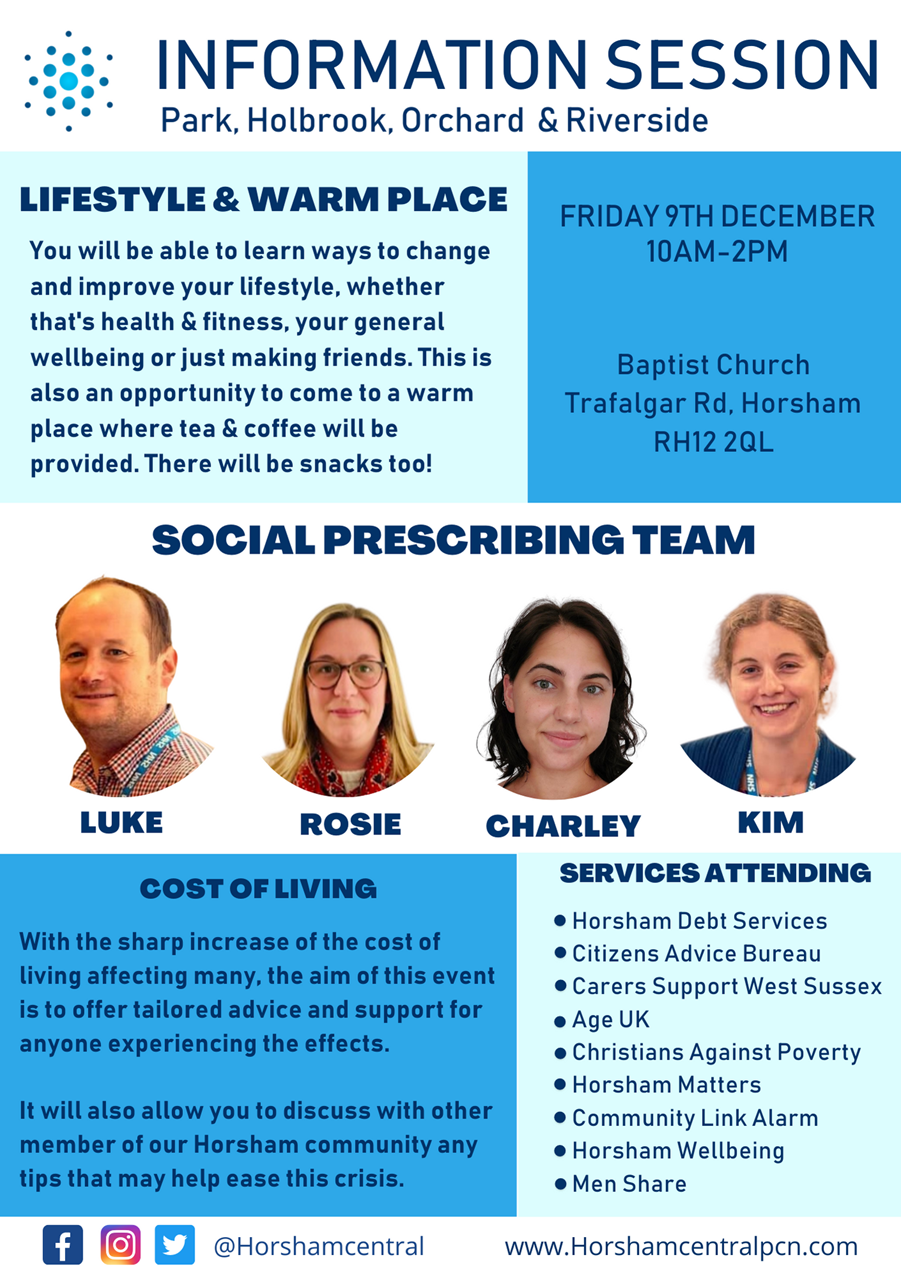 AUTUMN COVID-19 & FLU CLINICS
Horsham Central PCN (Holbrook, Park, Orchard and Riverside Surgeries) will be offering both the Covid Booster and Flu vaccination appointments to all eligible registered patients. We are working with our GP federation, Alliance for Better Care to deliver the programme and will be running regular clinics at Holbrook Surgery, 9 Bartholomew Way, Horsham, RH12 5JL
Clinics dates are as follows:
18.9.22 10.00am – 17.00pm Covid only
24.9.22 10.00am - 16.00pm Flu only
25.9.22 9.00am - 17.30pm Covid/Flu
1.10.22 10.00am – 16.00pm Flu only
2.10.22 9.00am - 17.30pm Covid/Flu
8.10.22 10.00am – 16.00pm Flu Only
9.10.22 9.00am - 17.30pm Covid/Flu
When will I get my appointment?
Patients aged 65 and above and patients under 65 who are in a clinical at-risk group will be invited via SMS to book, with appointments available from the 18th September   Patients aged 50-64 years old will be able to book once these priority groups have been vaccinated.
How will I get my appointment? 
Appointments can be booked via the NHS website or by calling 119 from the 7th of September or you can check the Alliance for Better Care Walk-In Clinic page.  Where possible, we aim to offer the Flu jab for eligible patients at the same time as their Covid Booster - depending on vaccine availability. Please note - patients who have their Covid boosters in early September might be asked to return for their Flu jab at a separate appointment. 
Patients who only want a flu vaccination
We will be running "flu only clinics" on certain dates and patients will be invited via SMS from the 19th September 2022. For those patients who do not have a mobile phone they will receive a call to book their appointment.
Walk-ins
At present we will not be offering walk-in clinics. Please visit the https://allianceforbettercare.org/vaccination-programme-patients/ for updates on alternative walk-in clinics.
While this next phase focuses on the delivery of booster doses to eligible patients, we continue to welcome patients aged 5+ for first and second doses only of the Covid vaccine. Simply book via the National Booking System or attend one of the appropriate Walk-In Clinics. From September 2022, individuals aged 16 to 49 years who are not eligible for a booster in the autumn campaign will cease to be eligible for a catch-up booster from earlier campaigns. The exception to this could be for younger frontline health care workers, where there may be an advantage to minimising absenteeism over the winter period when most respiratory infections are circulating. As protection from mild disease following a booster is likely to be short lived, this group may be offered boosting later in the autumn programme although such considerations should be subject to operational flexibility.
Ethnicity SMS messages
Our Primary Care Network (PCN) group have sent out a text message about ethnicity to patients who do not already have this on their record. To update your record please fill out the form via the link sent in the text message.
04 May 2022 - eConsults
eConsults will be available between the hours of 8:00 and 10:00 every morning. This is to help patients reach the surgery when the phones are most busy.
27 Apr 2022 - Shingles Vaccinations
Patients aged 70-79 are eligible for the shingles vaccine.

When you're eligible, you can have the shingles vaccination at any time of year.
14 Apr 2022 - Help us help you over the Easter Bank Holiday weekend
NHS services are currently extremely busy, as we continue to see a rise in demand across all health services.
There are also rising numbers of healthcare staff who are off work with COVID-19.
Together this means health services are working extremely hard to continue to provide the best possible care for those who need NHS help.
Over the Bank Holiday weekend, the NHS is asking the public to help us help you if you need help and support.
Please
Use the right services for your needs at the right time – pharmacies and NHS 111 are the best place to start, providing expert help and advice;
You can contact NHS 111 24 hours a day by dialling 111 or going online to 111.nhs.uk 24 hours a day. They can advise, support and direct you to the most appropriate service;
Please only go to A&E or Emergency Departments if it is a life-saving emergency;
Be patient and kind to our staff - they are trying to keep people safe.
If you do need help there are alternatives to going to A&E. Crawley Hospital Urgent Treatment Centre is open 24 hours every day.
If you need mental health support over the Bank Holiday, the Sussex Mental Healthline offers crisis care for people in urgent need of help with their mental health. It is available 24 hours a day, seven days a week on 0800 0309 500.
See more about the services open this weekend, including the pharmacies open over the weekend: Know your services - Sussex Health & Care Partnership (sussexhealthandcare.uk)
31 MAR 2022 - COVID-19 SPRING BOOSTERS
Horsham Central Primary Care Network are proud to announce that from April 1st 2022, we will begin the role out of the COVID-19 spring boosters.
If you are over 75 years old, Immunosuppressed (12+ years), registered as housebound (75+ years only) or a resident of an elderly care home you will be eligible.
Horsham Central PCN will contact all over 75-year-old registered housebound patients (including immunosuppressed) and elderly care home residents to arrange a visit from our roving vaccination team. For any other patient who is eligible, please contact 119 to book your vaccine.
PLEASE DO NOT CALL YOUR SURGERY REGARDING COVID VACCINATIONS as our reception staff are incredible busy and will only direct you to call 119.
Millennium hall is permanently closed; however, we are working on opening a clinic within Horsham Hospital to offer these boosters. More updates will follow.
Thank you
Horsham Central Team!
29 Mar 2022 - APRIL BOWEL CANCER AWARENESS MONTH
April is Bowel Cancer Awareness Month, a fantastic annual opportunity to raise awareness of the fourth most common cancer in the UK. Every 15 minutes someone is diagnosed with the disease, that's nearly 43,000 people each year.
Bowel cancer is also the UK's second biggest cancer killer, however it shouldn't be because it's treatable and curable especially if diagnosed early. Nearly everyone survives bowel cancer if diagnosed at the earliest stage but this drops significantly as the disease develops. Early diagnosis really does save lives.
That's why we're supporting Bowel Cancer Awareness Month and Bowel Cancer UK, the UK's leading bowel cancer charity, to raise awareness of the symptoms of bowel cancer:
· Bleeding from your bottom and/or blood in your poo
· A persistent and unexplained change in bowel habit
· Unexplained weight loss
· Extreme tiredness for no obvious reason
· A pain or lump in your tummy
Most people with these symptoms don't have bowel cancer. Other health problems can cause similar symptoms. But if you have one or more of these, or if things just don't feel right, see your GP.
For more information about bowel cancer and details of how to get involved in Bowel Cancer Awareness Month visit www.bowelcanceruk.org.uk
25 Mar 2022 - eConsult temporarily unavailable
Due to staff shortages, eConsult will be unavailable until Tuesday 19 April. Apologies for this inconvenience.
During our opening hours, you can call reception on 01403 330266..
Outside our opening hours you can call NHS 111.
For administrative support you can email parkadmin@nhs.net.
25 Mar 2022 - COVID-19 Spring Boosters
Thousands of people will be invited to book a Spring COVID booster this week as the NHS vaccination programme enters a new phase.

Eligible groups for Spring boosters include care home residents, people who are 75 and over and those who are immunosuppressed aged 12 and over.

In line with new advice from the Joint Committee on Vaccination and Immunisation, the NHS COVID-19 vaccination programme will contact people when it is their turn to be vaccinated.
Once invited by the NHS, people will be able to book their appointments through the National Booking System either online or by calling NHS 119.
To book your COVID-19 vaccination (including Spring Boosters), please call 119 or visit Book or manage a coronavirus (COVID-19) vaccination - NHS (www.nhs.uk)
For full details on the COVID-19 vaccination programme in Sussex, please visit COVID-19 vaccinations - Sussex Health & Care Partnership (sussexhealthandcare.uk)
Friends of Park Surgery AGM 2022
Notice of the
ANNUAL GENERAL MEETING
of the
Friends of Park Surgery
(Patients Participation Group)
to be held on
23rd March 2022
at 5 pm by Zoom Meeting
All members are invited to attend
For further information and the Zoom link contact:
friends.ofparksurgery@nhs.net
Covid & Flu Vaccines (including boosters)